When I was young, I think it must have been when I was around five, we were on holidays in Bright. I've been told that one day we were at the shops, or maybe getting fish and chips, and a man walked in and he was covered in tattoos. This was the early 70s so a sight like that was like seeing a Martian appear before me. Apparently I turned to mum in awe and said "One day I'm going to be like him!".
That story never got old, re-told so many times that to this day I can hear mum's voice and the laugh that would come after its telling.
I was never a fan of tattoos, never quite 'got' them. Rae had a tattoo when I met her and now has the most glorious art work on her back and shoulder but I was still not sold on the idea.
One night we were out to dinner together talking about Rae wanting a new tattoo. I'm pretty sure it was me who came up with the idea for the Freddie Mercury that is now on her forearm and then talk turned to what I would have on mine if I was to get one. Rae came up with the idea of band logos. The New Order from Low Life, Billy Bragg's 'BB' symbol, Pet Shop Boys was too tricky and Frank Turner's F/T/H/C logo were the go and then it was forgotten about.
But a seed has been planted and the damn thing grew.
Then Frank Turner went and released a new album and the first song, Get Better, had a lyrics video.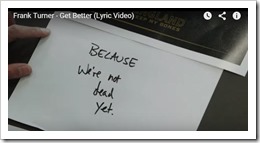 I loved the lyrics and 'things can get better, because we're not dead yet' seemed to stick in my mind. It wouldn't budge and the appeal of no matter what's going on, things can get better became a motivating mantra for me. Injured? Not dead yet. Too much work to get done? Not dead yet. Still 1k to run? Not dead yet.
So I decided to get a tattoo.
Lucy perfectly copied  the text in his hand writing from a video grab and one rainy Saturday morning I got my first tattoo.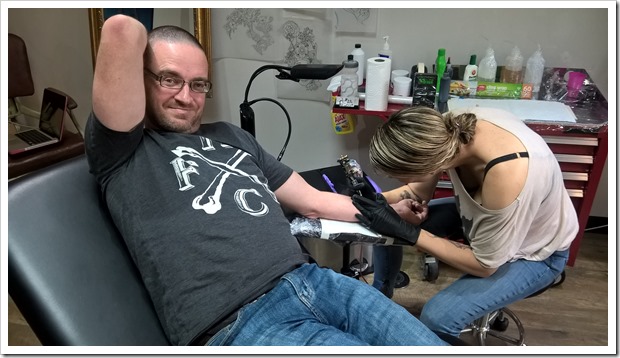 So mum, it's only a start, but, I told ya so.