When we first moved in to our house it was in the middle of a drought. You weren't allowed to water so we didn't do much in the front. Planted some shrubs, threw down some lawn seed and hoped. This worked for a little while but for the past couple of years we've been saying we really have to do something to make our house look presentable again.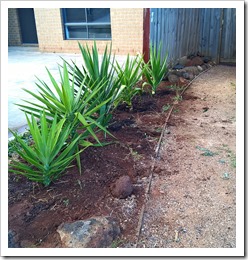 Over the past couple of months this reached tipping point. There were weeds everywhere, one shrub had died, others had grown unchecked and, to put it bluntly, our house was looking like an embarrassment. So on Sunday we began. Out came all but two shrubs, and those were trimmed right back. Weeds were pulled, others poisoned and we came up with a firm plan of what we are going to do.
Tonight we started on the plan. Rae saw a guy offering yukka plants for free and we've planted six of them. We have some sleepers left over from when we did the back yard and they are going to be turned in to a flower bed for out the front of window. Stones are being moved to under the yukkas and we'll be turning over the lawn to start again.
It feels great to have begun this after such procrastination. Hopefully it won't be long until once more we have a front yard we can be proud of.