Well, one project down for the long weekend. My desk has been cleared, cleaned and restructured. I even took the time to properly label the cords in to the power boards and USB ports, something I've never done before and curse every time I go looking for the right cord to unplug or jiggle.
This is my desk now, all tidy and ready for work. Nothing much to see. There's my one antenna android, my Kogan retro DAB radio, the pinup coaster from Rae, and my pen caddy. One pen, one highlighter, one marker and one pencil makes it so much easier to just grab what you need. I know not that many people love them by I swear by Microsoft Natural keyboards, I've used them as long as I can remember and a 'normal' keyboard feels odd to me.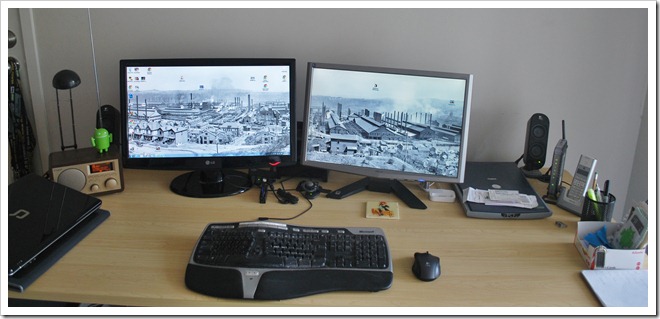 Project Two is the front and back garden which will now have to wait until tomorrow morning and with a bit of luck I may even get to make a start on Project Three – the overflowing bookcase here in the office.