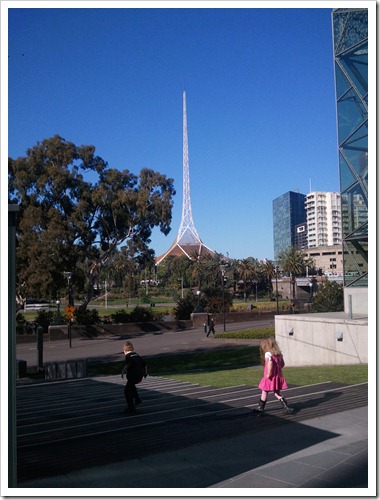 Today was the last day of Rae's mini holiday so I took the day off too and we spent it in the city, or more to the point, in and around Federation Square.
The main purpose of the trip was to see the MSO provide the music for a screening of the Oscar winning animation of Peter and The Wolf. It was fantabulous – the three young ones were enthralled, although Henry thought the wolf was bit scary. The live musical accompaniment was something special, with Henry taking a look every now and then to see which instruments were being played. I think it's on again tomorrow and would be well worth the trip.
After the show/screening/performance we wandered on off to Screen Worlds. I've been twice now but both times with kids in tow. One of these days I'm going to go by myself so I can take in each and every exhibit. It's unbelievable that an exhibition of such quality is free, I know I'm going to need a few hours to do everything justice.
A wander through the square and in to the city proper for a something to eat. The less said about where the better but the kids were happy. Then it was back to Fed Square and a stroll by the river to the kids playground at Birrarung Marr. The kids had a blast – running and jumping and sliding and climbing along with seemingly every other child in Melbourne.
With some time to kill we then walked up to the NVG. I was in heaven as I got to stand and soak in Collins St, 5.00pm, The Bar and Rooftops. The kids were getting a little restless by this stage so an ice-cream from Nana, another quick burst on the playground for the boys and it was time to head home.
We spent almost an entire day together just in and around Fed Square and it was fantastic. Everyone had a great day, the kids are now exhausted (Mr Henry is fast asleep) and with dinner being cooked by Zita, a lovely evening outside and a nice cold drink you really couldn't ask for anything more.