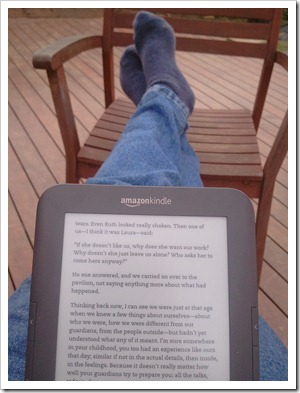 It's a footy Sunday today, a Doggies home game so Rae, Zita, Phee and Bert have gone off and left the twins and I all to ourselves. I love these days, they are generally a lot quieter with only two kids around and today was especially quiet.
We went for a little drive to Dirt Cheap Books where the kids got to choose a book each. Everyone in the shop would have heard Moo debating loudly with herself over the best one to select. Mr Henry made his choice quickly (a sticker book) and didn't waiver. Moo eventually settled on Stories For 4 Year Olds, after being talked down from the 5 year old book.
Due to popular demand we dined at McDonalds on the way back and then home where both hopped in to bed for an increasingly rare afternoon nap. I'd already (mostly) cleaned the kitchen, (most of) the house work had been done and I had already decided to take today off working  so I was presented with the rarest of things – an afternoon to do as I pleased.
It was overcast outside, but not cold, so I grabbed my Kindle, downloaded a new book, pulled up a couple of chairs and that's how I spent the next two and a half blissful hours. It's so quiet here it felt like I was the only person alive in Derrimut. The loudest sound was a couple of birds flying by.
The kids are awake now, reading their new books and playing with their Happy Meal toys. The footy is over so that means a happy Rae and Co are on their way home, the sun is already beginning to set on this first day of non daylight savings and I'm has content as I have been in a long time.