I just realised there's been a few things over the past month that I haven't written about here and I really should put them down for future reference. The other day Mel asked me if I thought blogs were dead. I don't think they are dead, although I think a lot of their functions have been taken over by Facebook and to a lesser extent Twitter. It's just so easy to make a quick post on Facebook to let people know what's going on. A lot of things that may have once been a one paragraph post are now dispatched to Facebook. I generally post to Facebook via Twitter so the updates appear on the home page of this blog and I'm also toying with the idea of starting a side blog that automatically brings in my Twitter posts. This way mum will know what I'm up to and that, yes, I'm still alive.
As for blogs, I think the diary blog is fading. Stalwarts such as Daniel will keep on going, as will a relative young pup (only 9 years this year) such as myself, but blogs seem to me to be becoming increasingly niche focussed. Mum blogs, tech blogs, gadget blogs; these are the way of the blog future.
Anyway, time for the memory dump.
The biggest news to record is I had a vasectomy (okay, I don't blame you, feel free to scroll down until you see 'SAFE TO RESUME'). After adding three kids to my instant family and with Rae taking care of the 'no-more-kids' duty, not always to the benefit of her health, it was time for me to take the responsibility. I have to admit I was nervous about the whole thing, i think most guys would be, and the massive thunder and lighting storm that hit as we drove to the clinic didn't do anything to calm the nerves.
There was a brief meeting with the oddest doctor i have ever seen. He seemed to be dying of terminal boredom through the consultation that lasted a few minutes. I was then lead to the change room and instructed to, um, preserve my modesty with a small blue towel as I walked in to the theatre. Not sure what the purpose of this was as it was discarded as soon as I lay down on the chair. He said he'd explain everything as he went along but this was soon dropped when he started humming to himself. I must have been a boring patient.
The procedure was quick, 14 minutes and he was done. My examination of the ceiling was interrupted when he finally spoke and said 'there's your right one' and he plonked my right vas deferens on the surgical cover on my chest. It must be his party trick. A couple of minutes later he added the left one. I swear I'll never eat spaghetti again without a pang of regret. Couple of minutes and one band aid later it was done. I got dressed and we drove home. I only had a local anaesthetic and it was all so matter of fact I now have no idea what I was worried about.
i can honestly say I never felt any pain, not one skerrick. Day 5 was a bit uncomfortable with  swelling but that lasted 12 hours and was done. The worse part was having to wear jocks for a week afterwards, I've been a boxer boy since my 18th birthday and can't see myself ever changing. We're now in the middle of the waiting period until I'm officially infertile. If I was to be asked I'd say do it, my experience was nothing but positive. Just have some ice ready for day 5 and you'll have nothing to worry about.
SAFE TO RESUME
There you go, all that icky stuff done with.
We had a great Christmas this year. It was at our place, which I love, and was a good relaxing day. The night, however, was not so relaxing. We went to bed and couldn't get to sleep because The Ferals had their karaoke blasting in to the night. I swear, you could hear it in the city. It was so bad that at 11:00 we were contemplating calling the police when we heard a beeping sound. A truck reversing sound. Yes, at 11:00PM on Christmas night someone was reversing a removal truck up our drive and parking it on the nature strip and footpath  directly outside our bedroom window. When someone slammed the back door I headed outside.
I must have looked a site in my Pac Man PJ pants and old t-shirt. "What the hell are you doing? It's bad enough with the idiots across the road [just as two of the idiots in question walked past, good timing Tony] and now this." They apologised and said they'd only be 15 minutes, which they were. I watched them unload furniture and a fridge before taking off again in a convoy of cars but, seriously, what is it with neighbours moving in in the depth of the night? Needless to say Boxing Day was very quiet.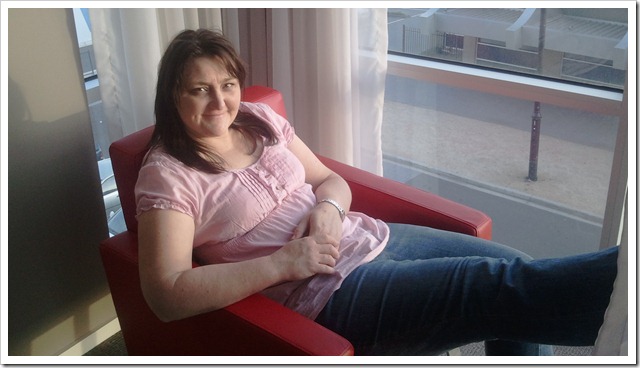 Then between Christmas day and new years Zita gave us a brilliant present, a night off. She bravely volunteered to stay with the kids while we took off. It was pretty short notice but we ended up having a great night in, drum roll please, Caroline Springs. Yes, I know. It's not quite yet the St Kilda of the West but we had a ball 'cause it was the first night we have had away together since our honeymoon, five (long) years ago.
We got to go shopping together, go for a long walk, watch movies in bed and just relax with the threat of little feet thumping in and little voices demanding attention every five minutes. It was glorious. Dinner delivered to the room, movies, wine, cheese and breakfast and all just five minutes, but a lifetime, away from home. Thank you again Ztia, and thanks to the good folk at Mercure Caroline Springs who upgraded us to their most luxurious suite. The next morning we even got to go The Sun to watch The King's Speech. A night away and a grown up movie. The memory still makes me smile.

On the way back from the movie we stopped and bought a new mattress. This came about 'cause earlier in the week we actually looked at our existing mattress and noticed the two perfectly shaped Rae and Tony indentations. It was 10 years old so due for a change. The new one has a 15 warranty so we're thinking it should last us at least 15 years. The only bad thing is that it's a lot taller than our old mattress so we're in the market for a few new sheets too.
We've also been powering through 30 Rock. We watched an episode on telly in early December and couldn't believe how funny it was. I know, I know, we're late comers to the cult of Liz Lemon but we've bought in hard. We've watched the first four seasons since then, which was easy to do in 20 minute bursts, and now we're up to the current series. I think it's about 90ish episodes we've knocked over in a month and a half. As Liz would say "what the what!".
Rae has another week of holidays left so there'll be more to come. It's been a good month and good start to the year and I really must try to get better at leaving memories here.
I'll do my best to remember.