We've just come back from a holiday, a proper no-work, everyone together, go a long way (715km)  away and relax holiday. It's the first proper break we've taken since our honeymoon four years ago and our first holiday as a family. It was only a short break in Adelaide but it was fantastic. We lucked out with the weather, perfect 23 degrees both days we were out and about, which made it even better.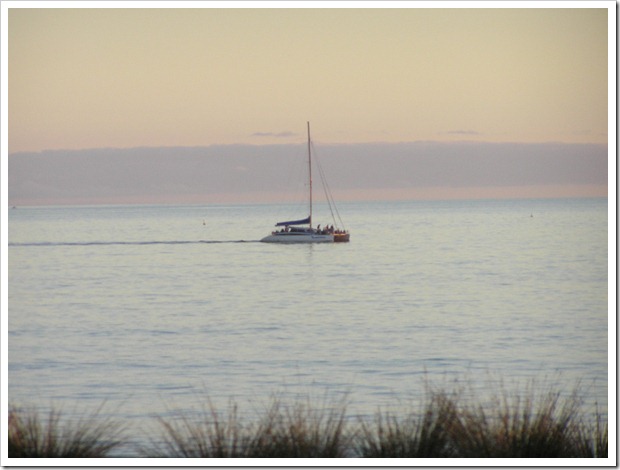 We stayed on the beach at West Beach, just down from the Surf Life Saving Club. It was a great place for us – affordable, comfortable and right in the middle of all the things we wanted to do.
There were two main things we went for – the pandas and the footy.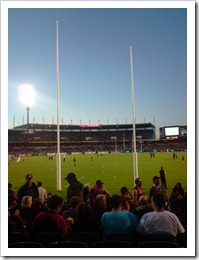 The footy came first, and it was an experience totally different to going to the footy in Melbourne. It was amazing to see the number of bbq's and picnics in the car park, something you hardly see here. We were also totally and hopelessly outnumbered. Walking from the car park to the stadium we didn't see another Tigers supporter and with just a smattering of the yellow and black we had to cheer extra hard to be heard above the Adelaide mob. Then there was the funniest thing. Rae went to get a couple of beers but was blocked from coming back to the seat because the cups didn't have a lid. She had to go back and get lids and when asked why she was told it was in case we accidentally spilt some on someone walking back to the seat. God knows how we've managed to cope in Melbourne all these years having to walk and balance beer.
My favourite moment came when the woman behind me asked her friend "do you think that sun is going to set?". As I said on Twitter, given the sun's history over the past several billion years…
The less said about the actual game the better, although for the first half we did look like we could play. It was a bit disorientating.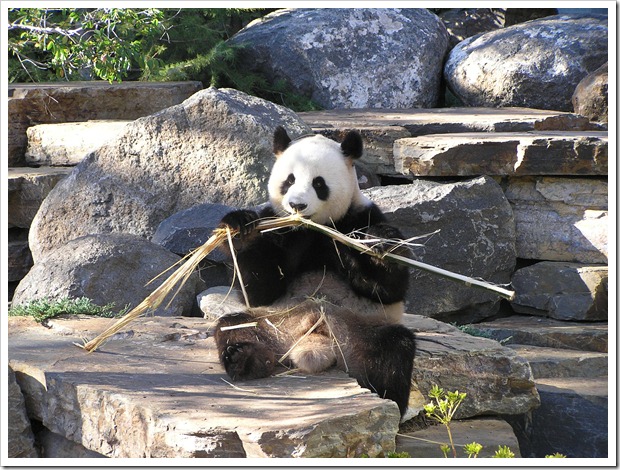 The second aim was to see the pandas at the Adelaide Zoo. We were able to get free admission with our FOTZ membership and Rae organised the tickets online so we were in the first group in that morning. The pandas were simply amazing. Such beautiful creatures. I could have stayed and watched for hours. Funi was sitting on a rock, enjoying the morning sun and some bamboo, Completely nonplussed about the crowds oohing and ahing over her she munched and crunched away, looking up at us every now and then.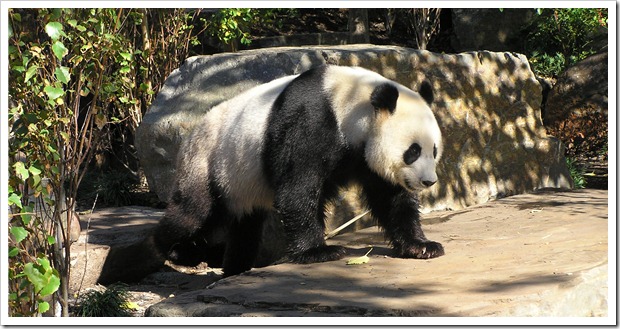 Wang Wang was out for his morning stroll, roaming around the impressive enclosure. At one stage he decided to climb a tree to show off a little.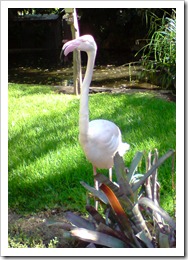 We went for a wander around the rest of the zoo and Bert was thrilled he finally go to see a flamingo. I have no idea where his infatuation with these birds came from but it was the highlight of the zoo visit for him. It was amazing to read the zoo's two flamingos were 70 and 80 years old. Due to issues with importing birds they probably won't be replaced when they die. It's hard to believe when you see them that they are that old – they arrived before the start of World War 2, one of them pre-dates the Great Depression. If you get the chance go and see them you really should.
The best display, aside from the panda exhibition, was the tiger enclosure. The volunteer there (wish I had noted her name, she was great) explained that it had been constructed so the tigers would be on eye level with the zoo visitors. We were lucky one tiger had decided to sun herself on a handy rock and Moo was especially thrilled to see her so close.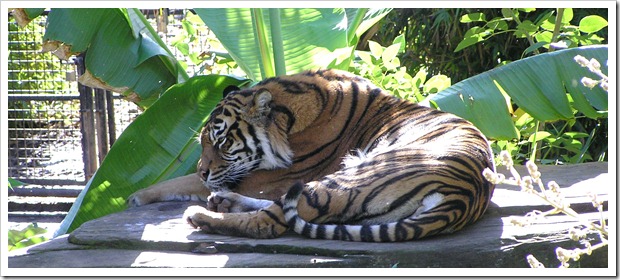 We also visited the National Rail Museum. We thought we'd take a quick look and then go and check out some more museums nearby. Yes, good theory that. We spent an entire morning there, the kids were completely captivated. I could have spent hours more indulging my hobby of reading ever information sign. The kids weren't in to the reading but loved climbing over everything and were thrilled with the steam train ride.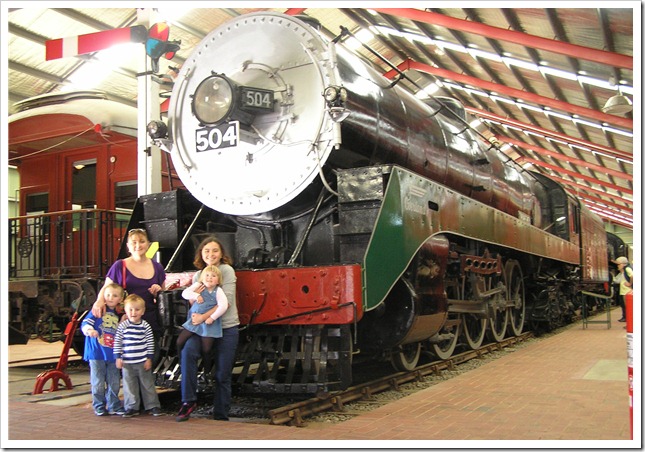 Throw in a stroll around Glenelg, spotting a seal frolicking in the ocean opposite our flat, good snack at the surf life saving club and some nice sitting in the sun it was a fantastic break. Sure, we had to spend two days in the car to get there and back but with all the preparation Rae had done even that wasn't too bad.
We'd love to go back again. There's a lot more we'd like to see and if we could we'd love to get away minus the kids to make the most of the wineries. After the drive though it may be a while before I feel like hopping in that car for any distance longer than the local shops.
Hopefully we'll get away and have another time as good as this before another four years pass.