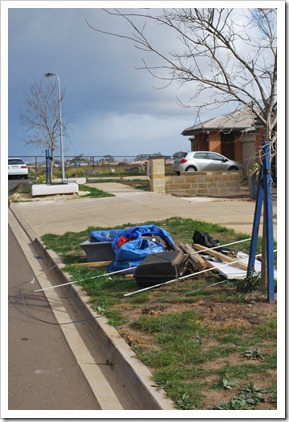 It's council hard rubbish collection morning this morning. All weekend piles of refuse have been appearing on nature strips, huge numbers of unwanted fridges, lawn mower and even the odd elliptical trainer have parked themselves waiting for the truck.
Lying in bed last night we heard a truck pull up and begin idling. Okay, a little odd at 10:00pm. Then there was the banging and thumping so I hopped up to investigate. It was a bloke, complete with fluro safety top, lugging Joseph's old fridge on to the back of an already bulging truck. He finally finished this and added Ange's lawn mower before pulling around to load up our neighbours lawn mower as well.
This is when she came running out and yelled "what the hell are you doing?".
Now here's the question that kept Rae and I chatting away. Did he have the right to go and help himself to other peoples junk, presumably to make a profit on further down the track.
Is he a civic minded, recycler of unwanted goods or a thieving parasite making money and not sharing the proceeds with the owners of what he took?
What do you think? And bonus points if you can guess which one of us was on which side of the argument.