We were shopping at South Melbourne Market this morning for our weekly market shop. After calzone and coffee it was off to the fruit and veg stall.
I generally wait in the alley while Rae dives in. Today I noticed what could be a good photo so thought I'd take a snap with Rae's phone as a reminder to bring back my camera. Snap, snap, snap. I was looking back at what I had taken when I sensed someone standing at my shoulder, trying to see the screen.
I turned around to see one of the fruiterers.
"You takin' a photo of me?"
"No, just the iron work and beyond."
He huffed and disappeared.
So, in honour of No Photo Man, here he is.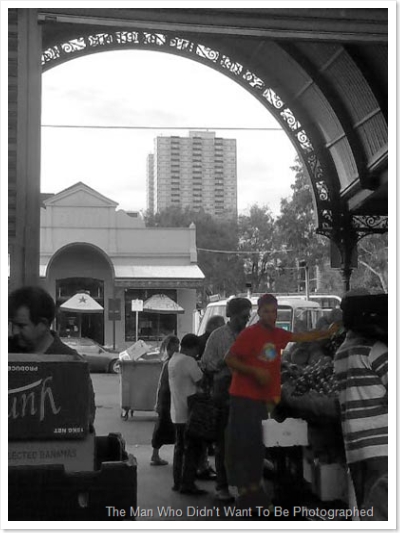 Next week I'll take the camera and see if I can get a better shot.