It's official, I'm a grumpy old man.
Our neighbour had his party last night and when we went to bed all was well. A little music, lots of talking, nothing to be heard in our bedroom. Come 4.30am though this had changed. It seems they dropped a nightclub in and no one in this house was getting any sleep. We both lay there cursing him and listened as the bass faded away, thinking that this was the time it would stop before THUMP THUMP THUMP again. At 5.00, with Phee wandering the house and Bert in danger of waking for the day I dispatched an SMS asking for the music to be turned off.
I should feel like a spoil sport for doing it, but I don't. Come one. 4.30am is just to not the time to have a DJ at full volume going in a back yard. How old do I sound now? I guess I'm at the age where that doesn't matter though. What does matter is a family rested enough to get through the day.
I also have to say well done to Chris. Within minutes of pressing send the DJ wound up and a stereo inside the house seems to have been enough for the revellers. It's seven hours later and they're still going strong. Now that really makes me feel old.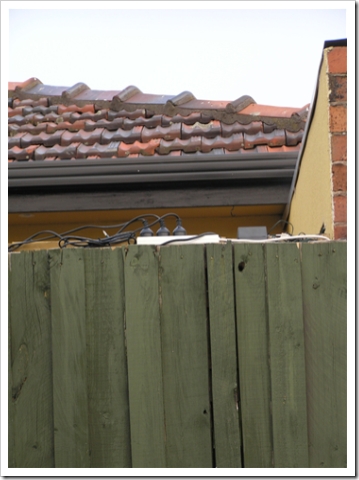 (This is the set up perching above our back fence. If all else had failed I could have gone and pulled the plug.)