This year was a year of music for me. I went to more gigs this year than the previous decade combined and found some fantastic new artists.
My favourite gig. Wow, this one was tough. Peter Hook and the Light played an absolute 3 hour blinder at The Corner, just thinking of that version of Perfect Kiss brings a smile to my face. It was an almost religious experience and put the New Order gig of a couple of years ago to shame. My ears were ringing for days afterwards.
Then there was the awesomeness of seeing Public Service Broadcasting in a tiny room with a couple of hundred other fans. I wish that performance could have gone on forever. The only disappointment was they didn't have any merch so I still don't have a PSB t-shirt. One day, one day…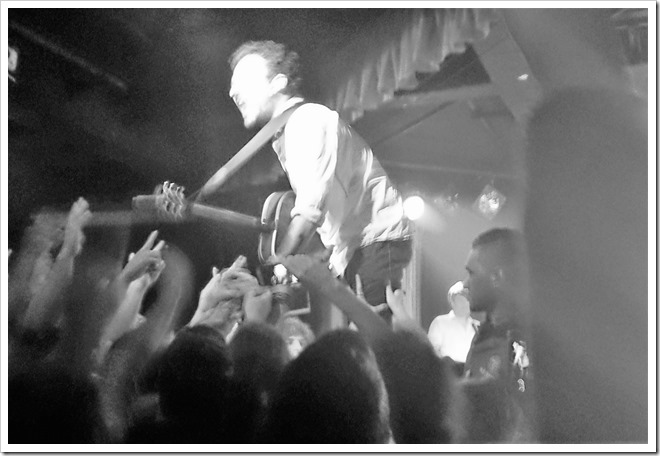 But the winner had to be Frank Turner at The Corner. I've already blogged about the gig so won't rehash here. All I will add is that he didn't disappoint a few days later when I saw him again at The Barwon Club in Geelong. Rae and I have already agreed it's tickets to every show he does in Melbourne next time he's here.
My favourite new artist would have to be Hyde and Beast with their laid back 70s inspired sounds. They played an amazing set at 6:00am on BBC 6 Music. Any band that can sound that good at that hour has to be worth listening to, and they certainly are. Stand out track – Keep Moving. Love that groove.
And favourite album? No contest on this one. I loved Frank's new album, indeed it inspired my first tattoo, but Public Service Service Broadcasting's Race For Space is a work of art. I must have listened to this album 100s of times this year and it never, ever, gets tired. So many brilliant tracks and there are two I just can't split as the stand outs.  The Other Side makes me hold my breath every time I hear it (and was beyond words live) and Go is everything I love about this band.
The thing that all three favourites have in common – I was introduced to each by Chris Hawkins on BBC 6 Music. So, Chris, if you read this, thanks for making this a great year.