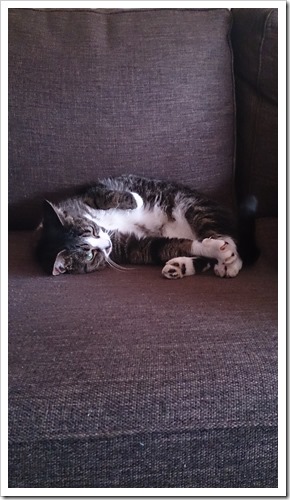 We've been a one cat family for a few years and even though we've talked about getting another we've erred on the side of keeping the peace for Bella, who has been a lot happier since she was queen of the house.
Well, last Friday as we were having a glass of bubbles on the deck Rae read that the Lost Dog Home had too many cats and to they were waiving all fees on adoptions. Then she showed me pictures of poor cats wanting a family. She must have got me at exactly the right time 'cause I said yes.
Saturday we all went in to the Lost Dogs Home in North Melbourne to meet the cats. There were so many but one lady met our criteria and caught our eye. We needed a calm cat, one who could cope with another cat, one that could cope with kids and 'Kitty' was it.  She came out of her little box and sat there, accepted pats from excited kids and didn't bat an eyelid. She was it. What made us even happier was when we found out she had been waiting three months for a family. She's six years old, or so the home thinks, and is so relaxed she must have come from another family.
She is the calmest cat you could wish to meet. When Bella made it very clear she wasn't happy that there was another cat on the couch Frankie didn't even flinch at the hissing or growling. She has spent the last two days sitting on Moo's bed having decided this is her safe place until she's happy to start exploring her new world. After months living in a tiny box it's no wonder she is a bit overwhelmed at so much freedom.
Bella isn't happy with us, refusing to sit on our laps now but the protest doesn't reach as far as bed. Our bed is too comfortable to give up, principles or not. So we're a two cat family again. Hopefully it won't be long until Frankie is comfortable here and wants to explore more of the house and become one of us.