I am over the moon. I finally did it – I have just ran my first ever race and I'm on a high.
When I first started jogging via C25K I just wanted to get to 5k, which I did, and then think about running a race. It has taken me a while to summon up the courage but today I took part in Run Melbourne. I ran the 5K race on a perfect winter day. My amazing wife and kids came in to support me on my first attempt which made a world of difference.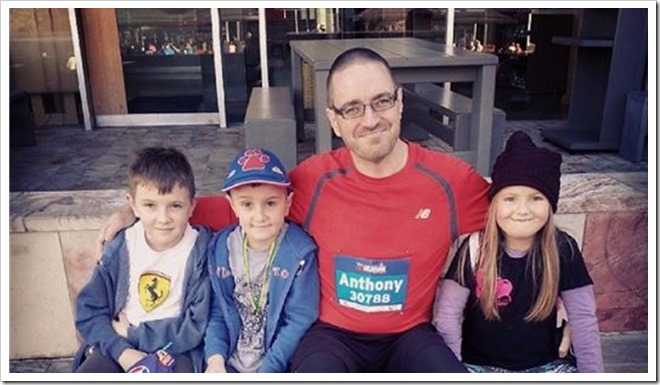 The race itself was fantastic and I've learned a lot about race day procedure and running in a race itself. I ate correctly beforehand (no stitch!), hydrated well but made the mistake of placing myself down the back of the 25-30 minute wave so I spent the first kilometre trying to get some free space, shuffling along some times as people blocked the road. Next time, front of the wave and take the outside.
I even managed to come home fast, that final run in to the finish line with people cheering and clapping was amazing. I could have gone around again! I even got to give Rae a big sweaty hug when I finished which she pretended not to like.
My results are up. I ran 28.07 (curse those people blocking me at the start!) coming in 544th overall, 344th male across the line. I;m so proud of that result. The back of the medal we were given says 'Remember this moment. You've earned it.'.
I did earn it, and I will remember it. The next race will be just a race but this one, my first, was incredibly special.