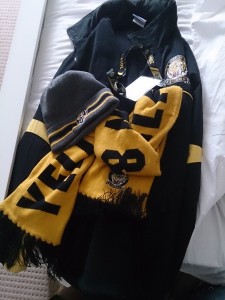 Park in one of those one way, seemingly no-standing anywhere side streets. Rejoice when I find I park two blocks closer than where I normally park. The panel beaters are working overtime. Bugger, I forgot my phone.
Under the bridge, under the train tracks. Wonder if the guywith the metal detector in the park found anything.
Swan St via a laneway. I swear there was an ATM here, maybe 20 years ago. Lunch, sushi. The pregnant lady isn't behind the counter. I wonder if she has had her baby since we were last here?
Stroll down Swan St. A smile of solidarity from a pretty girl wearing a Tiger's scarf. Browse in the book cafe. $12 for 'DOS for Dummies'. That's as optimistic as a Tiger supporter has to be.
ANZ ATM at Richmond station only dispensing 50s. "They're all going to the footy." sighs a woman in to her phone as she walks past.
Coffee from a corner cafe. $5.50 extra large skinny latte. The room is full of yellow and black. "Enjoy the game." as she passes the white paper cup to me. Obviously not a Tiger.
Stewart St curves me back towards the 'G. Narrow footpaths, Tiger fans going to the ground or to Richmond for some lunch,
Cool, Brunton Ave is closed so I can walk up the road.  Walking in the middle of the road never gets old, even at 44. It's a proper footy afternoon too; cold and grey with bare trees in Yarra Park.
Do you buy The Record from the first seller you see? He looks lonely out there. Walk on by. Move with the crowds along the path. This seller  is making an effort, buy from him.
Up the steps, up the stairs and in to my seat.
Beanie on, jacket on, scarf on. Game on.