Today was Rae's last day as an unemployed layabout so to mark the occasion we went out this morning. It was a different sort of out though because the two eldest were at school so it was just the four of us. It means we can leave the van in the garage and just take the car. It means there's less arguments (parent's with three kids will know what we mean). It meant we didn't have to do head counts.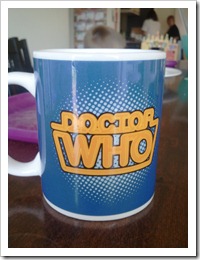 We took the little ones to Borders to spend a voucher we had. They loved it, reading some books and browsing the goodies on display. Moo ended up with Little Miss Giggles and Henry decided on a new Faraway Tree for when we finish the one we are currently reading. We chose for the two big kids and I scored a cool Doctor Who mug that features the logo from my era Who.
What better way to follow up book shopping than with a coffee? Off to Max Brenner for coffees and baby chinos for the kids. On the way we stopped at Darrel Lea 'cause you can never have too much sugar on a morning out with mum and dad. Finish off the shopping with some sushi for Henry (that's ma boy!) and chips for Moo (who is surprised there?)
On the way home I said to Rae that one day we have to go to the sorbet/gelato place in Ardeer that we drive past all the time. "Why don't we go today?" she said. Oh boy. Bad move. The lovely Italian guy there took a real shine to Moo and Henry and kept on bringing out samples of their amazing products to try. Henry scored his own little tub that he polished off in record time. We only bought two small lots to bring home but we'll be going back. So many flavours, all so good. We can't recommend Traino (47 Holt St) enough. Go, you won't be disappointed.
It was a perfect morning. Relaxed, unplanned, fun, spent with my wife. I love days like today, they really are the sort of days you live for. Now Rae starts her new job tomorrow so holidays will be a long way off. I'll keep the memory of this one for a long time. Good luck tomorrow my love.