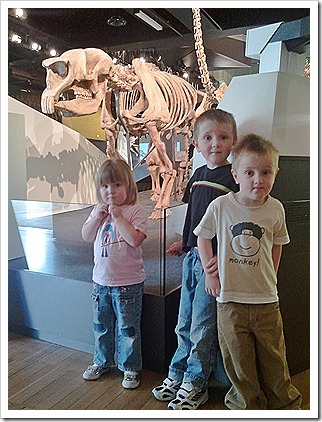 The kids have been obsessed with museums lately, ever since watching Night At The Museum and its sequel fifty times over. Most days Bert builds a museum in the lounge room and takes us on a guided tour.  I've been working pretty hard lately to get two huge projects finished, both of which got sign off yesterday, so I took this morning off and took the kids in to the magnificent Melbourne Museum.
I'm so glad I did.
They absolutely loved it, well, eventually for one of them. Poor Henry started freaking out as soon as I pulled in to the car park and told them where the surprise outing was to. Too many movies for that boy. No matter how many times I told him it was day time and the exhibits wouldn't come alive he still didn't want to go. He clutched me tight as we walked in and refused to look at the dinosaurs. Moo and Bert were in raptures though. Mr H eventually calmed down and realised nothing bad was going to happen.
We saw the dinosaurs, the wild animals (Mr H wouldn't look at the lions), Phar Lap, the Melbourne exhibition and then back to the dinosaurs which leaves a good deal to see when we go back. Yes, even with Henry who, in the end, had a blast.